Latvian Biomedical Research and Study centre has been nominated as processor and maintenant of Genome Database of Latvian population (according to Cabinet of Ministries regulation No.134 of the Republic of Latvia).
Genome Database carries out collection of biological material and related data. The collection is performed in different health care institutions in Latvia. The materials stored in Genome Database are accessible for research institutions for scientific studies.
Genome Database do not store personal information of participants, this data is stored in State population genome registry. Particpants that want to inquire about research results of donated samples need to write application to this registry. Registry performs identification of the participant code and provides participant with information. If sample have been geneticly studied the participant are usually informed via consultation at health care specialist, that can adequately explain the results in context of participants health condition.
Structure of Genome Database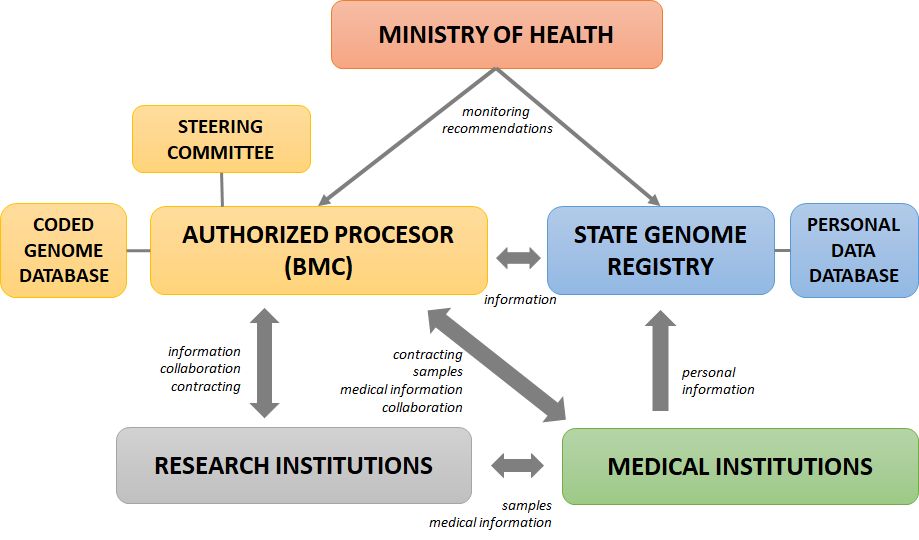 The operations of Genome Database of Latvian population is monitored and governed by Ministy of Health of the Republic of Latvia.
Legal acts that regulate activities of Genome Database of Latvian population: 
Human Genome Research Law
Personal Data Processing Law
Regulations of Cabinet of Ministers No. 692, 694, 695, 697. Legal acts available here.